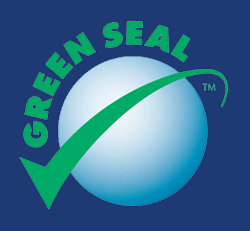 Green Seal Laureate Program
More and more companies are recognizing the marketing benefits of 'being green' – or at least of claiming to be so. It will come as no surprise to those who read this site, but some of those claims are less than honest.
That's why Green Seal is asking for input on a recognition program called "Green Seal Laureate" (working title). The program will provide a guide to continuous improvement and identify companies that are committed to sustained environmental leadership. It will provide a path to honesty and credibility when companies proclaim their commitment to sustainability.
The Laureate Program will focus on a company's major environmental impacts and promote the environmental certification of products where recognized green standards exist. It will utilize life cycle analysis to evaluate impacts from products, including material sourcing, manufacturing, packaging, consumer use, and end-of-life.
In addition, the program will look beyond products alone, to the company's impacts related to corporate governance, operations and supply chain.
By going through this rigorous and thorough process, companies will be identified as environmentally responsible and will enjoy the benefits of Green Seal recognition:
Our credibility and lack of conflict-of-interest helps protect companies from the charge of "greenwashing" by backing up sustainability claims through a third party.
Recognized companies will be featured on greenseal.org, an often-referenced site that currently receives over 1.5 million hits per month.
Green Seal's expert staff is often called upon to participate in conferences and panels on current green issues. Recognized companies and certified products will be featured in these presentations.
The Green Seal Laureate Program will be tiered to inspire leadership. It will recognize and reward accomplishments and encourage continuous improvement:
Entry Level:
This will be the entry level for most companies that have made some progress and are ahead of many of their sector peers. Green Seal will conduct a company-wide LCA and provide a summary of impacts. The applicant will demonstrate that changes have been made and set goals for silver level recognition.
Advanced Level:
This advanced level recognition is for companies that have achieved some innovative reductions in their key environmental impacts and have developed and are acting upon a deeper life cycle understanding of their products' impacts.
Top Tier:
This top tier is for the outstanding leaders and innovators in their sector who have achieved deep reductions in their environmental impacts.
Recognition in the Green Seal Laureate Program will send a clear message to customers, employees and stakeholders that the company cares about improving the health and welfare of people and the planet.
We welcome input on this important tool for company sustainability and encourage stakeholders to comment on the program. To register as a stakeholder before January 16, 2009, click here [1].
For details on the Laureate Program and its requirements, call Dr. Mark Rentschler at Green Seal, (202) 872-6400 or email laureate@greenseal.org [2]
Green Seal Laureate Requirements [3]