On April 29th, we hosted our first workshop to great acclaim. Since the beginning of the year, we've had more than 200 people participating in our alpha and beta product development. Workshop participants included designers and engineers representing a number of these organizations.

The workshop was presented by Philip White [2], lead author of Okala [3] and SM's VP of Sustainable Product Design. The curriculum was designed for people and companies who are committed to creating more environmentally sustainable products, to equip them to move forward with greater knowledge and credibility. We will now be offering this workshop monthly, in cities around the country.
We've included the software subscription in the workshop tuition because we think it's a great way to get started. However, the workshop is not training to use the software per se. The software is easy to use. The goal is to teach:
Ecodesign principles and product innovation through ecodesign strategies
Life cycle thinking and a whole product systems approach to product design
A deeper and practical understanding of what life cycle assessment (LCA) is
How to conduct a Sustainable Minds, Okala-based LCA to produce quantifiable environmental impact results to support design decisions
How to consider integrating SM LCA in the design process and service offerings
"I am very excited about Sustainable Minds. I know what I learned here I can apply to my work. All the engineers in my company will be able to do it. I know I can now prove to our customer that we have reduced the environmental footprint of their product."
"I just wanted to say thank you for creating this software. Earlier this year when we were looking at Okala Impact Factors, one of our engineers built an Excel workbook to get people to do Okala assessments. Trying to do them even in a simplified way was very cumbersome. We are happy to have this software. It will enable us to integrate this information easily into our process."
In addition to the agenda [4] Philip delivered, participants from Farm, Motorola and Magnet gave presentations about how they're using SM in their companies. We will be featuring company presentations at every workshop. The intention is for the SM community to share learnings as we all move up the sustainable design learning curve together.
One story shared by the folks from Farm [5] was a key insight they had while trialing the software. They selected a product they'd previously designed, and conduct an SM LCA on several of the concepts and the final design. They discovered that one part in the final design (that had been added largely for aesthetic purposes) significantly increased the overall impact. Had they had the data then, it's unlikely they would have selected that version as the final.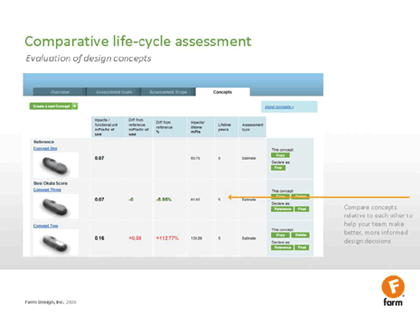 "Thanks again for your efforts to bring Sustainable Minds to life. I really enjoyed the workshop and both Rose and I are charged about starting to use the software in a serious way."
– John Longan, Engineering, Farm
To enable the community to share learning's, all subscribers will become members of SM's Customer Support Community, hosted by Get Satisfaction [6], "a community that helps people to get the most from the products they use, and where companies are encouraged to get real with their customers."
Watch our site for the workshop schedule. Our next one is May 29th in San Francisco, hosted by Autodesk. Register now > [7]
We also give workshops on site at your company or in your community. Contact us [8] about a custom workshop tailored to meet your sustainable product design goals!