Using Sustainable Minds, the team at Bresslergroup reinvented the common wooden shipping reel to create exponential environmental improvement AND cost savings for KALAS Wire –a very tangible benefit. Improving environmental performance increased their ROI.
Watch the webcast > [2]
"Sustainable Minds helps establish the ethical aspect of sustainability by providing more credibility to product design, manufacture and distribution decisions. It has changed the game, for the better."
– Mathieu Turpault, Director of Design, Partner
Business drivers for using Sustainable Minds
Bresslergroup strives to be environmentally responsible. Implementing Sustainable Minds lets us achieve this goal easily and efficiently. Sustainable Minds enables us to create a benchmark, a starting point that we can iterate from and improve. It allows us to quickly test assumptions, evaluate and compare, for example, impacts from shipping versus impacts from materials. This helps us determine where our design time and effort should be spent for maximum impact. Our designers use it early in the process where the design decisions are likely to yield larger benefits. Our engineers also use it to iterate and quantify the benefits of engineering optimization.
Sustainable Minds enables us to quantify the impact of our proposed changes for our client and their clients. By making incremental, yet strategic changes to the product, we are able to make substantial improvement when multiplied across hundreds of thousands of units. This improvement creates cost savings for our clients –a very tangible benefit. Improving environmental performance increased their ROI.
"As a tool and process that integrates easily into our existing process, Sustainable Mind has become an expected tool in our toolbox for clients such as KALAS Wire. We have set their expectations that environmental performance is a key consideration in our product development process, thus raising the bar, and barrier to entry for other consulting firms. Using Sustainable Minds creates real business value and a competitive advantage for Bresslergroup."
The KALAS Wire Story – Greener wire & cable shipping reels
KALAS Wire, a wire and cable assembly manufacturer was facing increased pressure to reduce some of their operating costs. They hired Bresslergroup to focus on one of their biggest operating costs –the cost of wooden shipping reels used to ship millions of tons of wire and cables across the continental US. Wooden reels have been used for decades as t
he preferred solution for wire shipping, but its inefficient design makes them very difficult and cost prohibitive to ship back. Many of us have probably experienced these reels as furniture during college when these reels found a second life.
To reduce costs and improve the environmental performance, Bresslergroup considered designing an all plastic, collapsing reel that could collapse easily and offer many multiple cycles of shipping and return. It was our preconception that this solution would result in lowering cost AND environmental impact (after all, we wouldn't need to cut so many trees to make these reels). We used Sustainable Minds to test our assumptions. When combined with our expertise in engineering optimization, we concluded that our preconception of the system approach and the technical and material solutions would have to be questioned and iterated upon.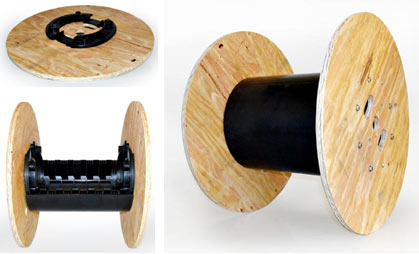 Results
Our preconception was that a single plastic reel could replace several wooden reels and naturally be a better and more durable solution. Our engineering analysis led us to realize that the ultimate reel should not be made only from plastic, but a combination of wood and plastic. Our assumption that a single plastic reel would be better than a single wooden reel, was also challenged by the life span we planned for this product and the series of Sustainable Minds LCAs we conducted. Our final solution ended up being different than we had imagined, a system of multiple wooden flanges and a single plastic core, with a lifespan that exceeded original expectations.
Another unanticipated benefit was to awaken our clients' burgeoning environmental consciousness. This led them to establish recycling (regrinding) means and a take back program to further improve their product return rate, reducing their company's environmental impact. Evaluating environmental performance is now a default expectation for KALAS Wire.
The decisions were iterative and always informed by the SM LCAs. These involved changes to our system approach, which required conducting several benchmark LCAs to redefine variables as the approaches changed. Many other decisions were made along the way as we conducted more iterative LCAs, optimized the design and refined our material choices.
The biggest change happened when our preconception of an all-plastic wheel was replaced by a plastic core and multiple sets of wooden flanges. It was counter-intuitive, but made sense from a structural standpoint, and added up from an environmental impact stand point.
Key learning: Sustainable Minds throws preconceived notions out the window. In many cases our team thought that changing one variable would prove the biggest improvement, but quickly learned that it was the least of our concern and that others should be focused on.