Add the life cycle data you need to model the environmental performance of your products.
Sustainable Minds enables product development teams to rapidly model the environmental performance of products in the earliest stages of R&D. Today, as environmental performance increasingly drives product innovation and differentiation, using industry average data is often not good enough. Manufacturers want data specific to their business processes and supply chain. SM's unique cloud & service delivery means data can continually be updated and new data added so product teams have what they need, when they need it.
"Maybe the perfect cloud solution?" [2] Al Dean, Executive Editor, DEVELOP3D
Our dataset grows as our customers grow. Now it's easy to request and add impact factors for the life cycle data you need to model your products. Use the Data Browser to view the current dataset and the SM Data Request Form to submit your requests. We help you describe and source, then verify and add the data you need for:
Materials
Processes
Use stage consumables
Transportation
End of life methods
"Being able to add all the specific data we need for the materials and processes we use provides us a credible and actionable way to work with our customers to make their products greener. We can then choose to share with the general public, or deem them strategic to Spartech, and use in a proprietary database, which we can share with our customers. This gives us a lot of flexibility in shaping our sustainability, sales and marketing strategies and programs going forward." - Jeffrey Best, Director of Marketing, Spartech Corporation [3]. Read the full story > [4]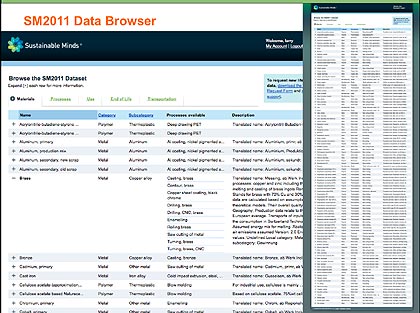 When adding a material, you can specify the associated processes and EOL methods. Alternatively, when adding a process, you can specify the associated materials.
"The custom data component of SM is essentially an extension of my team. It allows us to approach any client or project of any size with the confidence that we'll be able to deliver innovative and sustainable solutions, and it allows us to manage overhead by not requiring us to need an in house expert. When that support is required - SM has our back. A recent example was our Misura Eyewear line. When we sourced new exotic hybrid material blends for their sustainable qualities, SM custom impact factors made let us credibly demonstrate that those hybrid blends were more sustainable than current market practices." - Ken Harris, IDSA, Principal, fredsparks [5]. Read the full story > [6]
"The data creation program will prove beneficial as a win-win process for our team as well as SM. This structured format will help us think through and provide all the necessary information for SM to easily access and efficiently respond with the customized data to meet our needs." – Lori Suchland, Sustainability Analyst, Crown Equipment Corporation [7]
Custom impact factors include:
Generic – an expert proxy based on publicly available data
Supply-chain – from information collected from your vendors
Primary – from information from your own facilities
We can also add industry average data from any publicly available source.
Sustainable Minds Private Cloud – for proprietary datasets. When you want your data to be your data, we offer a secure solution found at your own branded URL: company.sustainableminds.com.
Contact us [8], or call 617 401 2269 for Custom Data Creation and Private Cloud solutions.
Register for the weekly webinar: [9] NEW: Custom Data Creation Program. Have it your way. > [9]