Cindy Bayley is a graduate of the University of California Berkeley in Mechanical Engineering, with a minor in Sustainable Design. She is an intern this summer with Sustainable Mind and is returning to UC Berkeley to pursue a Master's degree in Mechanical Engineering.
Sustainable Minds is being used to teach sustainability in a variety of disciplines, and in ways that were unexpected. The software is thought of as practical and tangible, and is inspiring a lot of new kinds of thinking. As we've learned how Sustainable Minds is being used, we've consistently found that both faculty and students have been excited, challenged, invigorated, and are thinking and collaborating in new ways.

I first discovered Sustainable Minds this past spring when I was a grader in a Sustainable Manufacturing course. The students in this course were given an assignment using Sustainable Minds and I was thrilled with the discovery. Sustainable Minds was right in line with my interests in design and sustainability. What interested me was how the software was designed for comparisons and design iterations. I also explored the Learning Center and was excited to read about the Ecodesign strategies, as I have participated in a research project examining design for environment principles. I contacted Sustainable Minds and am delighted to be sitting in the Cambridge office at this moment writing this blog post.
One of my projects this summer has been to assemble a library of example curriculums where Sustainable Minds had been integrated. It has been interesting to see the range of courses that have used Sustainable Minds: Business, Design, and Engineering education, plus an outlier – a Department of Geography and Environmental Sustainability.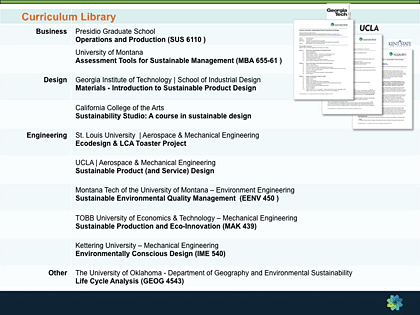 Transdisciplinary, interdisciplinary, multidisciplinary – we heard all these terms used to describe how the courses were created and delivered.
I observed that many of the courses:
1. Encourage a holistic perspective of product design
Some of the courses prepared students to address product design from a broader, more holistic perspective. In addition, environmental responsibility was sometimes integrated into the core of the design process. One course in particular acknowledged that sustainability is not often a part of the product design process and devoted lecture sections to this topic titled: 'Current Design Process – Environment is ignored' and 'How and Where Sustainability needs to fit in the Design Process?'
2. Inspire change within organizations
In some courses, there was a focus on sustainability in organizations and exploring the processes and strategies for creating sustainable change within organizations. For example, one course included a module on 'Making the Case for Sustainability Internally and Externally.'
From these observations, two overarching themes emerged:
1. Empowering Sustainability Leadership – This was reiterated in a number of the courses. Sustainability leadership is defined in one as 'To demonstrate behaviors recognizable as those of an influential leader of positive change through varying spheres of influence from the self, to the team, to the organization and ultimately to the system. Influences change by building on competencies of personal power and efficacy, relationship management, a results orientation, adaptability and agility, and highly ethical and social justice orientations.' (Presidio Graduate School, "Operations and Production" (SUS 6110) [2]).
Even though it was not directly stated, the courses that discussed creating sustainable change within organizations are also empowering sustainability leadership. Perhaps even all of the curriculum can be considered as empowering sustainability leadership. After all, these courses are educating the next generation of sustainability leaders.
2. Embedding Interdisciplinary Practices – I found that many of these courses were interdisciplinary in ways beyond what I expected. For example, some of the courses were not only comprised of students from a variety of disciplines but were also taught by teachers from different departments who collaborated to create the course. These courses were interdisciplinary in their creation, the method in which they were taught, and in the students they educated. One particular course was described as being "developed in order to be transdisciplinary and recognize no boundaries between various disciplines" (California College of the Arts, 'Sustainability Studio: A course in sustainable design. [3]') This course mentioned interdisciplinary methods in which students used a variety of approaches from several disciplines to develop solutions. Readings in the course also described multi-disciplinary perspectives in the development process.
Another course was taught by six different professors, each teaching different topical modules. During the design and development of this course there was lively interaction and discussion between the faculty from different departments, which the instructor intended to be repeated among the students. (Kettering University, "Environmentally Conscious Design" (IME 540) [4])
In contrast, we've seen other educators simply just get started by pulling information from the Learning Center, adding it to what they know, and creating a course or a project.
One course that was particularly fascinating to me was taught in the Department of Geography and Environmental Sustainability. The curriculum had one of my favorite statements that I felt was a testament to the interdisciplinary nature of sustainability, "This course provides students with an understanding of LCA both with respect to its conceptual foundations as well as its applications across a variety of socially important sectors." (University of Oklahoma, "Life Cycle Analysis" (GEOG 4543) [5])
In conclusion, I found that Sustainable Minds is being used to teach sustainability in a variety of disciplines, and in ways that were unexpected. The software is thought of as practical and tangible, and is inspiring a lot of new kinds of thinking. As we've learned how Sustainable Minds is being used, we've consistently found that both faculty and students have been excited, challenged, invigorated, and are thinking and collaborating in new ways.
If you're interested in learning more about how Sustainable Minds is being used in education please feel free to contact me [6] or our sales department [7]. We can discuss curriculum and share our Curriculum Library with you.
I also encourage you to check out our webcasts. This series features educators from leading colleges and universities demonstrating how they're teaching with Sustainable Minds.
Customer Success Stories: Creating Knowledge Workers for the Greener Product Marketplace
Part 1: 3 Schools | 3 Disciplines | 3 Educators
[8]Part 2: Getting Started
[9]Part 3: Stay tuned – taking place on August 28th.
Finally, I'll conclude with some questions for consideration.
When does Sustainable Minds fit into design thinking?
Steps in the Design Thinking Process: 1. Understand, 2. Observe, 3. Define, 4. Ideate, 5. Prototype, 6. Test
When I first encountered this question, my first thought was that Sustainable Minds is a form of testing. A concept is entered into the software, analyzed, and iterated upon and results are displayed. The more I thought about it the more I could make a case that Sustainable Minds is also a form of prototyping, then certainly a form of ideating, and I ended up making a case that Sustainable Minds fits into many stages of design thinking. I am still considering this topic and welcome your opinions in the comments below.

How to address the challenge of sustainability education when it is such an interdisciplinary field. In my research this summer I have discovered initiatives like the Ponderosa Project at Northern Arizona University [10]. The Ponderosa Project is an interdisciplinary group of faculty who seek to incorporate environmental sustainability into university courses. The term 'sustainable curriculum infusion' was a new one for me. The Ponderosa Project inspired the creation of a number of similar initiatives at other universities, yet Engineering was sometimes absent from the picture. Why was this? What steps do we need to take to ensure that there is more synthesis across all departments teaching an understanding of sustainability?

As e-books, mobile technology and online courses and educational communities become more popular, how can Sustainable Minds continue to make significant contributions to the advancement of sustainability education?

In some courses there was an online platform for students. This allowed students to discuss course material and post news relevant to sustainability. Often there were assignments that required them to make contributions to online forums.

In one course, Sustainable Minds was used in lieu of a textbook. The software and Learning Center were described as providing both a source of information and hands-on experience. Sustainable Minds software and the Learning Center are intended to be used in this way.