Celebrating All Brands Making Credibly Greener & Healthier Products for the Built Environment
CAMBRIDGE, MA – OCT 18, 2016 -- Sustainable Minds, the first cloud software solutions provider and program operator to deliver simple, understandable and meaningful product environmental reporting, has introduced the SM Transparency Catalog™ – another first in its suite of Transparency Products. Launching with 350+ brands, representing hundreds of categories and thousands of products, the SM Transparency Catalog brings together all manufacturers who have made the commitment to product transparency – and presents their information in a simple, standardized and consistent way. The SM Transparency Catalog [2] is the only source:
Of products with transparency disclosures ever assembled — in the cloud
To provide BOTH environmental and material health disclosures that qualify for LEED v4, Green Globes, the Well Building Standard and the Living Building Challenge –- from all manufacturers, all program operators and all material disclosure rating systems
To make products with transparency disclosures easy to find for AEC professionals — free access, no login
Designed to send users to manufacturers' websites for more information
Previewed earlier this month at Greenbuild, the world's largest conference and expo dedicated to green building, the response from both building industry professionals and manufacturers has been extremely positive.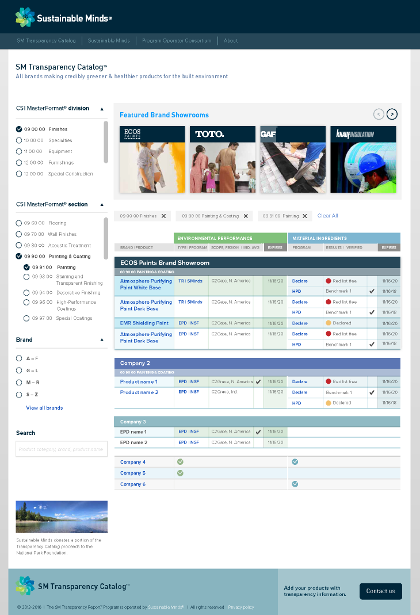 "We're thrilled to know about the SM Transparency Catalog. This free tool will save us hundreds of hours in research, allowing us to easily find products with EPDs, HPDs and Declare labels. This will be our first stop for product evaluation and selection." – Molly A. Jones, AIA, LEED AP, GGP, GPCP; President, Jones Design Studio
"Sustainable Minds is building bridges over the chasm between a world of emerging eco/health information about building products, and the people who need to access it to make better decisions. They understand that a critical step is to make it easy to find products with disclosures and organize the data to make it more useful – and that designers and clients should not be the ones to pay for access." – Simona Fischer, Designer & Sustainable Materials Specialist, MSR Design
"Transparency and customer experience are very important to us. The SM Transparency Catalog makes it easy for AEC professionals looking for products with transparency information to find ours. It solves the problem of providing product information with all the transparency information in one place." – Scott Miller, Sustainability Director, Knauf Insulation
People aren't looking for disclosures – they're looking for products with disclosures. The SM Transparency Catalog is the first to connect product information with product transparency information. The listing levels provide an increasing amount of integrated product and transparency information to help manufacturers credibly market their greener & healthier products, and to help design and building professionals understand how the manufacturer is making them and what they're doing to improve.
"Manufacturers creating transparency disclosures should be rewarded. They are making a tremendous investment in cost and learning curve to understand the processes, interpret the outcomes and convey the results," said Sustainable Minds CEO, Terry Swack. "Products with transparency information are also likely to have many of the other green ratings and certificates for that product category. The choice of which products to create a disclosure for is generally an indicator of either a manufacturer's most popular products, the greenest/healthiest, or both."
Visit www.transparencycatalog.com [2] and register for the introductory webinars Oct 20, 26 and Nov 2, 2-2:30pm ET @ www.sustainableminds.com/weekly-webinar [3]
About Sustainable Minds®
Sustainable Minds is a B2B cloud provider of environmental product transparency applications, data, and services to help product manufacturers across the value chain design and market greener products. The company is the first cloud software provider and program operator to focus on simplified and understandable environmental reporting. Sustainable Minds is dedicated to operationalizing environmental performance in mainstream product development and manufacturing in an understandable, empowering, and credible way. Its easy-to-use standardized solutions make it possible for manufacturers large and small to drive revenue and growth through greener product innovation. www.sustainableminds.com [4]
CONTACT:
Terry Swack, CEO | terry@sustainableminds.com [5] | 617 877 5416