Webinar recorded Thu, Dec 8 @ 2pm ET
Welcome to our new customer webcast series featuring building product manufacturers making credibly greener & healthier products. Learn how they are working to understand and improve the environmental performance and material health of their products.
Join us to learn about:
Which products have disclosures and why
What they learned from creating disclosures
What they've been doing to improve
How to use product transparency information to make better informed specification decisions
Martin Grohman
Director of Sustainability, GAF
Scott Miller
Director of Sustainability, Knauf
Manufacturers: Leverage your transparency investments with SM Transparency Products. Start by making your products findable, then make the info understandable and meaningful to build a credibly greener & healthier brand.
Design & building pros: Be part of the solution to create demand and deliver on the demand for higher performing, greener & healthier products.
Find products [1]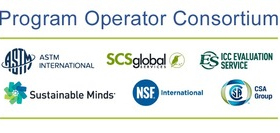 [2]