Webinar recorded Thu, Feb 2 @ 2pm ET
Learn more about the SM/CHPS partnership along with Ecore International, CHPS member and SM Transparency Catalog customer.
SM and CHPS announce a partnership to promote the use of products with environmental and material health disclosures in K-12 educational facilities.
CHPS is a leading national organization working to improve student performance by building the best possible schools, incorporating integrated design, sustainable products, and leading construction practices. Sustainable Minds is the first cloud software solutions provider and program operator to deliver simple, understandable and meaningful product environmental reporting.
To allocate more resources to its Core Mission, CHPS will be retiring its High Performance Products Database in the fall of 2017. This decision led CHPS to the partnership with Sustainable Minds and the SM Transparency Catalog [1], a free, online source that will make it easy for the AEC community to find products that meet the CHPS Criteria 'Environmental Product Declaration' (EPD) and 'Material Health Reporting' credit requirements, and for manufacturers to communicate the availability of their compliant products. The partnership also encourages manufacturers to list their products in the SM Transparency Catalog by providing a discount to CHPS Member organizations. Read the release > [2]
Stephany Mason
CHPS Technical Director
Dana Davis
Marketing Coordinator, Ecore
"At Ecore, we transform reclaimed waste into performance surfaces that make people's lives better. CHPS and Sustainable Minds allow people who value sustainability to easily find our products and related certifications. CHPS has been a valuable resource in the education market for years, bringing us plenty of leads. With the CHPS relationship, the SM Transparency Catalog will be an invaluable resource to users looking to specify sustainable and healthy products for schools." – Dana Davis, Marketing Coordinator, Ecore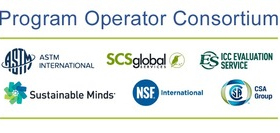 [3]