Recorded Monday, December 18 | 2pm ET
Sustainable Minds and Knauf are leading the way making product transparency understandable AND actionable with this new solution.
Now, all in one place, get quick access to transparency documents (EPDs, HPDs, Declare labels), learn what Knauf is doing to make its higher performing, greener & healthier products – and easily select, configure and specify to get them into your green building projects.
Learn while you do. In this webinar we will take a tour of these new tools and discuss how Sustainable Minds and Knauf Insulation worked with design professionals to bring this game-changing solution to market; and how Knauf sales & spec reps are being trained to integrate this product knowledge and tool into their process.
Scott Miller, Director Sustainability, Knauf Insulation
Terry Swack, CEO & Founder | Sustainable Minds
Who should attend:


Architects, designers, facility managers, specifiers, contractors AND sustainability leaders, A&D reps, specification and sales reps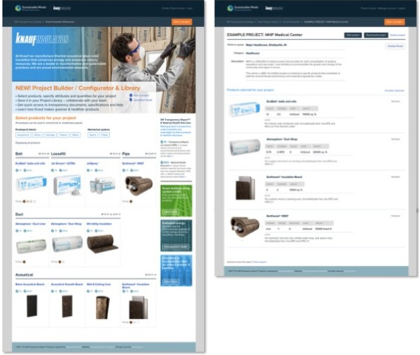 "Educating people about product transparency, sustainability and how to specify insulation – and at the same time learn about how manufacturers are making their products – equips the design professional to make better informed decisions. Moving product selection upstream in the design process ensures that we get the products that help us meet our sustainable design goals into the specifications."
– Daniel Overbey, AIA, Dir. of Sustainability, LEED AP, WELL AP | Browning Day Mullins Dierdorf
The Project Builder / Configurator & Library is now available to all manufacturers.
The SM Transparency Catalog is the educational marketing and customer service solution that makes it easy for AECs and manufacturers' employees & partners to find all the brands and all their products with transparency disclosures to inform greener and healthier specification decisions. By educating the industry to understand what product transparency information means and how to use it, change happens.
transparencycatalog.com
[2]Free to use, no ads, no selling analytics to 3rd parties
Listen to the replays of the 'Transparency is the New Green' series with Tarkett, Carnegie, ECORE and more. Listen > [3]