Recorded Wed, Jan 31, 2–3pm ET | 11–12pm PT
Avitru (formerly ARCOM) and Sustainable Minds are making it easier for building professionals, and your employees & partners to find, understand, select and specify products to construct higher-performing, greener & healthier buildings –

all in one place.

The result will have a tremendous impact on how decisions about building products get made.

In this special introductory webinar, we will give a tour of the SM Transparency Catalog and discuss how the cloud-based platforms of Avitru and Sustainable Minds will work together to provide credible and complete product transparency information.
Michael Heinsdorf
PE, LEED AP, CDT
VP Business Development, Avitru
Terry Swack
Founder/CEO, Sustainable Minds
Attend the webinar to learn about:
How product transparency has moved from early adoption to early mainstream in a 5-year trend report
Why product transparency is a key driver to creating a higher-performing built environment
The products Avitru and Sustainable Minds are co-developing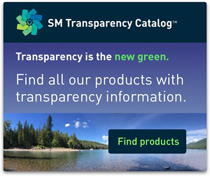 [2]
If your company has invested in transparency disclosures, you have a Freemium listing. Check it out and contact us to learn how to get a measurable return.
transparencycatalog.com [4]
Free to use, no ads, no selling analytics to 3rd parties
Listen to the replays of the 'Transparency is the New Green' series with Tarkett, Carnegie, Knauf, GAF and more.
Listen > [5]