recorded Thurs, Aug 2 | 2pm ET, 11am PT
Dear design professional, We are inviting you to attend this webinar because you are involved in making material selection and specification decisions.
Designed specifically with you in mind, we will demo and discuss the benefits of using the Knauf Showroom [1] with Project Builder / Configurator and Library in the SM Transparency Catalog.
Learn while you do. We've made it easy to select and configure insulation products, save projects, collaborate with your team, share with your clients, get quick access to transparency documents, create submittal packages and get specifications and spec help.
Attend the webinar to learn how:
To use the Knauf Showroom for training/education and projects
Knauf makes greener and healthier products from the integrated explanation and improvement stories that disclosures don't report
The Project Builder / Configurator was designed with, and for, design professionals
We think you'll wish that all material suppliers do this so you can easily make better informed decisions that actually do result in building higher-performing buildings.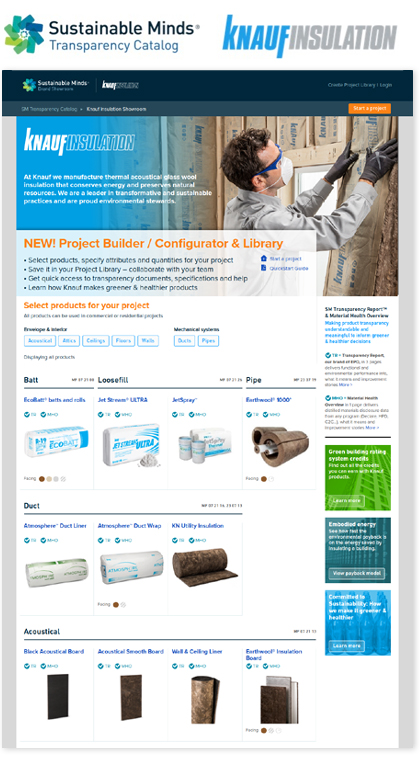 [1]
Created in response to the most urgent product transparency challenges:
The need for product transparency education across the industry
The ease of finding products with credible transparency information
Making it understandable and meaningful by explaining how the manufacturer is improving environmental performance and material health
Ensuring the products you select get into the specification

Daniel Overbey, AIA
Dir. of Sustainability, LEED AP, WELL AP
Browning Day Mullins Dierdorf
"Educating people about product transparency, sustainability and how to specify insulation – and at the same time learn about how manufacturers are making their products – equips the design professional to make better informed decisions. Moving product selection upstream in the design process ensures that we get the products that help us meet our sustainable design goals into the specifications."
The SM Transparency Catalog is the educational marketing and customer service solution that makes it easy for AECs and manufacturers' employees & partners to find all the brands and all their products with transparency disclosures to inform greener and healthier specification decisions. By educating the industry to understand what product transparency information means and how to use it, change happens. Contact us. [3]