Recorded Thurs, Aug 16 | 2pm ET, 11am PT
As you likely know, the challenges facing the mainstreaming of product transparency are complex. As such, solutions must be designed from a deep understanding of the entire process

– disclosure creation, sales, marketing and specification – and for all users in the process.

Join us for this how-to webinar and learn from:
Scott Miller, Knauf's Director of Sustainability and Product Affairs discussing the benefits and how they are using the Knauf Showroom for training, sales and specification support.

Terry Swack, SM CEO, demo'ing the easy to use education, sales and marketing tools built-in across the Catalog and how AECs and manufacturers are using them.
The SM Transparency Catalog is the educational marketing and sales enablement solution that makes it easy for AECs and manufacturers' employees and partners to find, understand, select and specify products to build high-performance, greener & healthier buildings.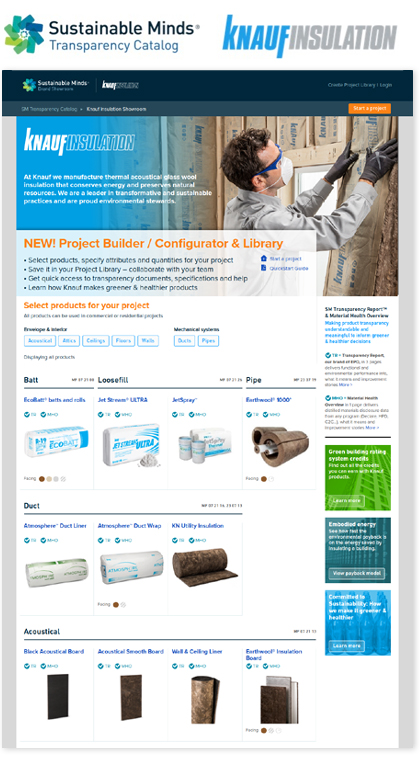 [1]
Since the Knauf Showroom with Project Builder / Configurator & Library launch @ Greenbuild 2017:
2,500 users
35,000 pageviews
9 pages/session

William (Buddy) Combs, CSI
Design Build and Specifications Consultant
Knauf Insulation
"Great! It's a tutorial for our customers. Everything is all in one place. It allows me to do something I can't do now – efficiently distribute detailed product data, transparency information and specifications in a comprehensive digital package. Works better than other websites."
Free to use, no ads, sponsored content or selling analytics