recorded Thu, Dec 12, 12–1pm ET | 9am PT
AECOs: The Transparency Catalog now includes EC3 tool results
making it super easy to find lower embodied carbon products in every MasterFormat® section in 1 click.
Find all EPDs from a manufacturer with Embodied Carbon in Construction Calculator (EC3) tool results. Results link directly to the EC3 tool to enable comparisons within the category or to start modeling a project. Connecting the last mile: in the EC3 tool, manufacturer and EPD pages link to their Transparency Catalog listing for product and contact information to help get the product into the specification.
MFRs: Now get affordably priced, simpler and standardized product and facility-specific EPDs
to improve results in the EC3 tool and for Buy Clean CA Act awarding authorities.
Delivered in the cloud, in the EC3 tool and in PDF, these EPDs are for manufacturers who:
Participated in an industry-wide and would like their own product-specific EPD
Have multi-product and want single product EPDs
Need new EPDs for a product made at multiple facilities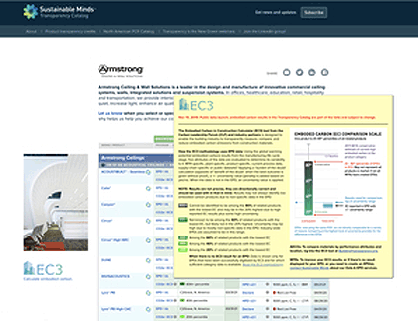 For handy reference, a tooltip with methodology explanation and key accompanies each result. Click the CO2e | EC3 [1] link to go directly to the EPD page in the EC3 tool to compare products within the category or to start modeling a project.
Join SM CEO, Terry Swack to learn about:
The Transparency Catalog / EC3 tool integration – What the EC3 tool results mean and how to use
The PCR/LCA/EPD system – What's broken and how it can change
SM Transparency Reports – Next gen digital product/facility specific, lower cost EPDs
Who should attend
MFRs, architects, engineers, contractors, owners, LCA professionals and industry groups who are proponents of simplification, standardization and delivering more useful and valuable environmental reporting tools.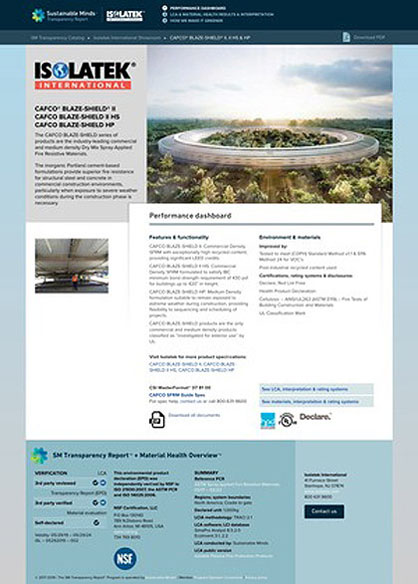 SM Transparency Reports, our brand of EPD, integrate product transparency into product marketing. In 3 easy to understand pages, your product info & data is in the cloud, not only in PDFs.
Read Terry Swack's impact outlook
The EC3 tool methodology:

Not just what, but why? Not just how, but how big can the impact be?
Read the post > [2]