Recorded Tue, Jul 21, 2–3pm ET
Welcome to our webinar series featuring building product MFRs making credibly greener & healthier products.
Both MFRs and AECOs will find value in hearing product and marketing leaders share stories about their transparency journeys, strategies and innovations.
For over 50 years, Excel Dryer has been manufacturing the finest American made hand dryers featuring the XLERATOR® Hand Dryer.
Visit the Showroom. [1]
Join us to learn about Excel Dryer's
Research on air drying vs. paper: energy, CO2, costs & now – hand hygiene
Leadership developing the PCR (product category rule) for hand dryers and how a good PCR drives good reporting
Benefits from transparency disclosures to get sustainable and hygienic hand drying solutions into a project specification
Great project stories told by facility managers on efficiency, aesthetics, costs
With special guests
Paul Marquez , Head of Architectural Sales | Excel Dryer
Terry Swack , Founder & CEO | Sustainable Minds – Moderator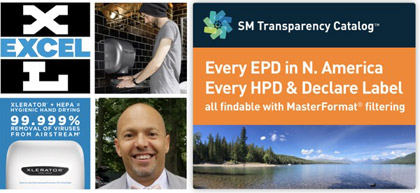 [1]
Transparency Catalog v3.0 sneak preview!
Powerful search combined with MasterFormat® filtering makes it super easy to find brands & products to select and specify, fast.
Integrated partner data. HPDs, Declare labels and EC3 tool embodied carbon results, updated weekly.
Get the specs! Product MasterSpec and MFR guide specs in each listing.
25 MasterFormat® divisions, 750+ sections. Every building product MFR in N. America investing in product transparency.