Recorded September 24, 2–3pm
Welcome to our webinar series featuring building product MFRs making credibly greener & healthier products.
Whether you're a MFR or an AECO you'll find value in hearing these product and marketing leaders share stories about their transparency journeys, strategies and innovations.
This week's stories are particularly interesting to hear together, one that's been investing in transparency for years and one that's more recently started.
With special guests
Jeff Terry, VP, Corporate Social Responsibility & Sustainability | GAF Materials Corporation
Sean Canfield , Regional Manager / National Accounts Manager | Isolatek International
Terry Swack , Founder & CEO | Sustainable Minds – Moderator
Join us to learn about
The history and brand story of each company
Benefits of creating transparency disclosures; learnings and improvements
Great project and application stories
Using product transparency to make better informed specification decisions
The value of being a Transparency Catalog Featured Brand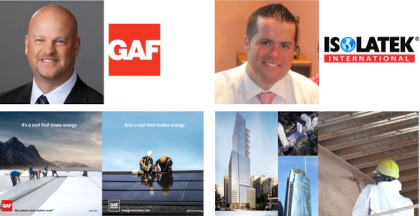 [4]
Visit their Transparency Catalog Showrooms to learn more and find products.
GAF Materials Corporation [5] As the roofing industry leader, GAF is proud to promote sustainability in all areas of our business. We practice and support new technologies in energy efficiency, material optimization and recycling that help conserve natural resources, and we share our knowledge to help our contractors, colleagues and customers do the same.
Isolatek International [6] is recognized as the world's leading single source MFR of passive fireproofing materials. Our extensive product line includes commercial, medium, and high density Spray-Applied Fire Resistive Materials, Intumescent Coatings and Rigid Boards. Our products have been known for their exceptional thermal performance, superior durability and ease of application.
The Transparency Catalog includes every building product MFR in North America investing in product transparency, now across 25 MasterFormat® divisions and 800 sections. Find out why AECOs and MFRs prefer it and use it.
"As a Materials Pledge [7] signatory, we are constantly searching for the best tools to connect us with the MFRs investing in transparency. The Transparency Catalog streamlines our efforts and saves us critical time by providing a one-stop shop with up to date information, powerful filtering and a very user-friendly interface with easy to understand guidance."
– Jay Hindmarsh AIA, CDT, CCS, LEED AP, WELL AP, Associate Principal, Mahlum Architects
"The Transparency Catalog has been an important additional tool toward achieving our firm-wide goals toward a non-toxic, environmentally preferable, and more transparent materials market. The robust and easy-to-find data helps streamline our process and allows designers to spend more time focused on design rather than data-mining."
– Tori Wickard AIA, LEED AP, Project Architect, Associate, Co-Leader Material Performance Taskforce, Perkins & Will