Recorded Mon, Sep 21, 12–12:30
Architects, engineers, contractors, owners & MFRs
Do even more in 1 click.
Now with 1,500+ brands, across 25 CSI MasterFormat® divisions and 800 sections, Transparency Catalog v3.0 provides deeper and more useful integration of partner data plus new tools that make it even easier to work the way you want, to get the best results – fast.
v3.0 highlights
MasterFormat filtering and/or search for more specific results in 1 click

New filters: Regulation & advocacy

Buy Clean California Act – Enhanced EC3 tool data makes it easy to find compliant EPDs for eligible materials

Living Product 50 – Easy for Materials Pledge signatories and supporters to find LP50 member MFRs in each MasterFormat section

Declare API integration – All MFRs with Declare labels and Living Product Challenge certifications, continually updated

Get the spec for each MasterFormat section in a MFR's listing

Starting with Product MasterSpec, easy to download 3-part specifications

Transparency Catalog now an option in GBCI's Better Materials

You decide the product platforms easiest to use & that meet your needs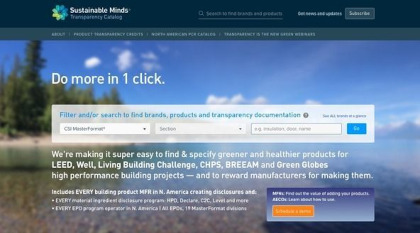 [2]
The Sustainable Minds data team, experts in material health and environmental reporting, continually updates and curates content to include EVERY building product MFR in N. America creating EPDs and/or material ingredient disclosures from EVERY program operator in N. America and EVERY material ingredient disclosure program (HPD, Declare, C2C, Level and more) identified by any of the green building rating systems that reward product transparency.
The Transparency Catalog is the product transparency cloud solution that makes it super easy to find & specify greener and healthier products for high-performance buildings — and reward building product manufacturers for making them.
Learn about the new v3.0 capabilities and how they benefit you!
People are saying...
"As a Materials Pledge signatory, we are constantly searching for the best tools to connect us with the MFRs investing in transparency. The Transparency Catalog streamlines our efforts and saves us critical time by providing a one-stop shop with up to date information, powerful filtering and a very user-friendly interface with easy to understand guidance."
– Jay Hindmarsh AIA, CDT, CCS, LEED AP, WELL AP, Associate Principal, Mahlum Architects
"The Transparency Catalog has been an important additional tool toward achieving our firm-wide goals toward a non-toxic, environmentally preferable, and more transparent materials market. The robust and easy-to-find data helps streamline our process and allows designers to spend more time focused on design rather than data-mining."
– Tori Wickard AIA, LEED AP, Project Architect, Associate, Co-Leader Material Performance Taskforce, Perkins & Will
"Sustainable Minds continues to up the game in product transparency with v3.0. With increased functionality and even more integration of GAF product data and information, they are providing an even better tool for our customers and business partners to find and select our products."
– Jeff Terry, VP, CSR & Sustainability, GAF Materials Corporation

[2]