Recorded Wed, Feb 3, 2–3pm ET
Since the 2016 Transparency Catalog launch, Sustainable Minds has been tracking and reporting on product transparency growth and trends.
Now we want to share our analytics tools with you, manufacturers, by introducing a revolutionary approach to providing performance data.
We are providing our trend tracking tools to MFRs.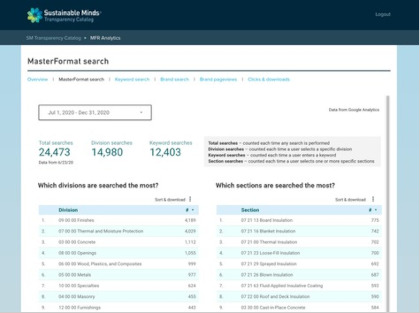 [1]
In the spirit of true transparency, we are providing each brand's performance stats – and every other brand's as well!
Starting now, included in the Transparency Catalog annual subscription – at no additional cost – is access to the Analytics Dashboard that includes the performance data for the entire catalog, all brands.
This will continue to accelerate the growth of product transparency by making it possible for MFRs to learn from the success of others. Not just in their own product categories, but from leaders in other categories who are out ahead and understand the demand for transparency.
MFRs and AECOs, join us for a demo of the new Analytics Dashboard and to learn about what happened in 2020:
From specification requirement to construction requirement
Dramatic growth in all usage metrics
Transparency Catalog users and where they are
Most searched MasterFormat® divisions / sections
Most searched disclosure types
Brands and products getting the most visibility and why
The Transparency Catalog now includes 1,480+ MFRs investing in product transparency in 26 Masterformat® divisions and 860+ sections, always free to use, no ads, no login.
It is now possible to specify and procure products for an entire high performance building project with high performance building products.

MFRs, learn about the value of the Transparency Catalog subscription. The value of your brand in the Transparency Catalog is exposure to the most targeted and motivated AECOs working on high performance building projects easily finding your brand and products with transparency disclosures, in any workflow.

MFRs and AECOs get a demo!
Contact us [2]

Terry Swack
Founder/CEO, Sustainable Minds