Recorded Wed, Feb 24, 12–1pm ET
Welcome to our webinar series featuring building product MFRs making credibly greener & healthier products. Whether you're a MFR or an AECO you'll find value in hearing these leaders share stories about their strategies, innovations and transparency journeys.

This webinar will explore how the industry is moving towards circular economy principles that mitigate climate change, minimize waste and maximize reuse.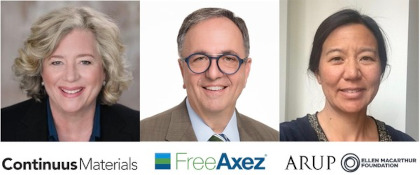 With special guests
Join us to learn about
The main concepts of a circular economy as they relate to building design
How AECOs can support a circular economy of building materials, beyond effective construction and demolition waste management plans
How healthy material and low embodied carbon considerations relate to circularity
Each MFR's history and stories about their strategies, innovations and transparency journeys
Great project and application stories
What's new in the Transparency Catalog and the value to MFRs
Visit the Transparency Catalog to select and specify their products.
Continuus Materials [9] transforms recycled paper and plastic into high performance composite roof cover boards. Our EVERBOARD™ roof cover boards are the ideal solution for low-slope commercial roofing systems. They are easier to install than alternative cover boards, and they deliver superior in-place performance and endurance.
FreeAxez [10] has revolutionized low profile access floor systems that smoothly integrate technology and adapt to future changes quickly. Our Gridd® systems provide maximum flexibility for data and power cabling installation, access and movement. Gridd's modular, 100% steel structure is reusable, recyclable and can accommodate an infinite amount of space reconfigurations.
The Transparency Catalog makes it super easy to find & specify greener and healthier products — and reward building product MFRs for making them. Now with 1,520+ brands across 25 CSI MasterFormat® divisions and 850+ sections.
Links:
[1] https://www.linkedin.com/in/bridgett-luther-0224785/
[2] https://www.linkedin.com/in/earlgeertgens/
[3] https://www.freeaxez.com
[4] https://www.linkedin.com/in/frances-yang-000916/
[5] https://www.arup.com/
[6] http://allforreuse.org/index.html
[7] https://www.arup.com/news-and-events/arup-renews-built-environment-knowledge-partnership-with-ellen-macarthur-foundation
[8] https://www.linkedin.com/in/terryswack/
[9] https://www.transparencycatalog.com/company/continuus-materials
[10] https://www.transparencycatalog.com/company/freeaxez
[11] https://www.transparencycatalog.com/