Recorded Thu, Apr 1, 12–12:30pm ET
Meet the WELL Health-Safety seal
, With a fantastic launch campaign bringing the public's attention to how health and safety are directly linked to how we design and maintain the great indoors, this new rating is an on-ramp to WELL v2 certification.
Join Terry Swack & Rodolfo Perez , WELL Standard Development Director, to learn about:
How the WELL Health Safety Rating was created
The role of healthy materials
WELL beyond Covid: what's next
Health & equity
How you can take action to create healthier buildings
How to use the Transparency Catalog to find all the brands with eligible materials for WELL in every MasterFormat® section in 1 click.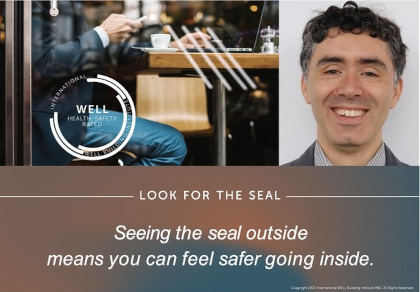 The Transparency Catalog [3] is the product transparency cloud solution that makes it super easy to find, specify and procure greener and healthier products for high performance buildings — and reward building product manufacturers for making them.
Now with 1,500+ brands, across 27 CSI MasterFormat® divisions and 900 sections, the Transparency Catalog provides deeper and more useful integration of partner data plus tools that make it even easier to work the way you want in any stage of design/construct, to get the best results – fast.
Get in touch! [4] AECOs: Schedule an educational demo for your team.
MFRs: Find out about the value of adding your products.
The WELL Building Standard [5] is a vehicle for buildings and organizations to deliver more thoughtful and intentional spaces that enhance human health and well-being. The WELL Materials concept aims to reduce human exposure, whether direct or through environmental contamination, to chemicals that may impact health during the construction, remodeling, furnishing and operation of buildings.

"We are constantly searching for the best tools to connect us with the MFRs investing in transparency. The Transparency Catalog streamlines our efforts and saves us critical time by providing a one-stop shop with up to date information, powerful filtering and a very user-friendly interface with easy to understand guidance."
– Jay Hindmarsh AIA, CDT, CCS, LEED AP, WELL AP | Associate Principal, Mahlum Architects

Terry Swack
Founder/CEO, Sustainable Minds