Recorded Thu, June 10, 12–1pm ET
The Collaborative for High Performance Schools (CHPS) is the pioneer in healthy, green school criteria. CHPS Criteria has been used in 100s of PreK–14 building projects across the country. 200+ design teams are currently participating in CHPS verification programs. Used in many of the largest school districts, its influence stretches across the country promoting the importance of healthy, environmentally friendly materials in construction and operation.
In this webinar, we will discuss recent updates to the CHPS Criteria [1], how MFRs comply with environmental requirements, how project teams & MFRs work together to get the healthiest products into schools, and how advances in the Transparency Catalog ease of use helps bring it all together.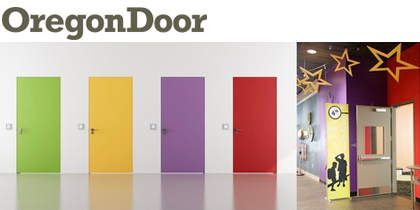 [2]From standard commercial solid core wood doors [2] that contractors trust & architects appreciate, Oregon Door's experienced team builds the doors that build your reputation.
Join us and learn about:
New Criteria: US & CA-CHPS, NE-CHPS coming soon!
How design teams, contractors & MFRs work together to identify and install the best products for schools
How one MFR's commitment to sustainability is a success story for others; meet CHPS member, Oregon Door
Transparency reporting for building products using EPDs & material ingredient disclosures
SM's technical support for MFRs creating HPDs
How the Transparency Catalog makes it super easy to find all MFRs with transparency disclosures for CHPS Criteria eligibility in all MasterFormat® sections
For 4 years, the SM/CHPS partnership has been promoting the use of products with environmental and material ingredient disclosures in PreK–14 educational facilities. We invite MFRs to add their products to the Transparency Catalog!
MFRs: Contact us [11] about adding your products. AECOs: [11] Schedule a demo

Continually updated and curated by Sustainable Minds' data team to include every building product MFR in N. America investing in product transparency, the Transparency Catalog is revolutionizing high-performance building product selection, specification and procurement by radically simplifying the delivery of transparency information.
Links:
[1] https://chps.net/us-chps-criteria
[2] http://www.sustainableminds.com/transparencycatalog.com/company/oregon-door
[3] https://www.linkedin.com/in/elisabeth-krautscheid-1aa7545/
[4] https://www.linkedin.com/in/gretchen-withers-3084111a/
[5] https://chps.net
[6] http://oregondoor.com/
[7] https://www.linkedin.com/in/madi-gore-354b1bb7/
[8] https://www.linkedin.com/in/terryswack/
[9] https://www.group14eng.com/
[10] http://www.sustainableminds.com
[11] http://www.sustainableminds.com/contact-us
[12] https://www.transparencycatalog.com/
[13] https://www.transparencycatalog.com