Everybody's talking about EPDs, embodied carbon, circularity and healthy materials! We invite you to join us to learn from our partners and friends on these very topics.

Booth Talks offer the opportunity for demos and discussion F2F with the people doing the work! We're excited to be back in person again. If you're in San Francisco, we'd love to see you! Check out the schedule > [3]
Be our guest! Get your free Expo pass. [4] Select Sourcing Package and use the code: GREENBUILDEXH22
Not attending? Contact us. [5] We're happy to brief you on any of these topics.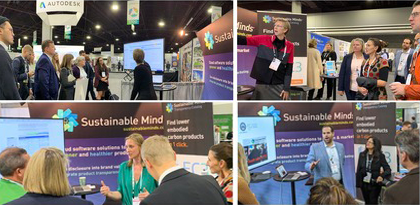 [2]

[2]
Wed, Nov 2,
Expo hours 10 – 5pm
10:40 –11:00am
Using EPIC for climate positive design (Early Phase Integrated Carbon Assessment) [6]
Jack Rusk, Climate Strategist | EHDD
11:30 – 11:50am
NEW EPDs & HPDs for natural stone cladding, flooring/paving & countertops [7]
Sarah B. Gregg, Marketing Manager | Natural Stone Institute
Terry Swack, CEO & Founder | Sustainable Minds
2:40 – 3:00pm
The EC3 tool is everywhere! Policy influence & tool integration overview [8]
Stacy Smedley, Executive Director | Building Transparency
Thu, Nov 3,
Expo hours 10 – 4pm
10:40 – 11:00am
Understanding HPD v2.3 with increased material & substance transparency [9]
Wendy Vittori, Executive Director | Health Product Declaration Collaborative
11:30a – 11:50am
Cradle to Cradle Certified® v4: Powering the shift to a circular economy [10]
Ren DeCherney, Built Environment Lead, NA | Cradle to Cradle Products Innovation Institute
1:45pm – 2:15pm
NEW Transparency Catalog v4.0 builds your internal spec and BoD libraries [11]
Terry Swack, CEO & Founder | Sustainable Minds
2:40 – 3:00pm
Declare and Living Product Challenge, now and looking forward [12]
Mike Johnson, Director, Materials | International Living Future Institute
Sustainable Minds is the only end-to-end product transparency solutions provider for design & construction today.
We deliver LCA / material ingredient / carbon accounting services, and a PCR / EPD program focused on understandable, meaningful and reliable environmental performance and material health reporting — with digital & virtual tools to get products into projects.
Transparency Catalog is the leading source of building & construction products for high performance, low embodied carbon buildings.
We make it super easy to select, specify and procure greener and healthier products— and reward manufacturers for making them.