March 2010 | News & Info
Every month we'll be sharing the latest news about and updates to Sustainable Minds. We'll showcase organizations in design, manufacturing and education furthering greener product design and pass along topical information and events.

Latest from the SM Industry Blog
Sustainable Minds nominated for 2011 World Economic Forum Technology Pioneer
We just found out that Sustainable Minds has been nominated as a World Economic Forum Technology Pioneer Candidate for 2011. The WEF is an international organization of world leaders whose motto is 'entrepreneurship in the global public interest'. Previous Technology Pioneers include Google, Business Objects and Mozilla. Read >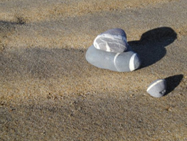 What intrinsic qualities enable sustainable design teams?
This is the second article in a three-part series on the concept of intrinsic sustainability. Sustainable design teams are comprised of individuals who have 'internalized' an ecological worldview. They share a fierce determination and intent to make sustainability happen. But design teams made up of such individuals alone do not have what it takes to deliver net-zero or carbon neutral buildings and environments. Read >


What's new in Sustainable Minds Release 1.2
Printable and exportable assessment results
Now just click a button to print results views to a file (such as PDF), or saved as HTML files for inclusion in presentations, web sites, workshops or simply to print to share with the team. Additionally, results from each concept can be downloaded as a file. SBOM items are displayed by life cycle, and include the scores for all items, including impact category results.
New monthly subscriptions let you use SM on projects
For those who would like to try SM LCA software on a project or three, Sustainable Minds is now offering monthly billing.
Special student pricing and academic site licenses
Student subscriptions are only $10/month. Site licenses for classes, departments, entire schools are also available. Contact sales@sustainableminds.com.

Sustainable Minds in the News
March has already been a great news month for Sustainable Minds!
DEVELOP3D Product Review: Sustainable Minds v1.1
Al Dean begins a series of articles looking at the tools and trends for 'green' or 'sustainable' design, starting with a review of Sustainable Minds 1.1. Read >
Experience Manufacturing: Sustainable Minds LCA 1.1
Al Dean takes Sustainable Minds v1.1 for a spin by testing a real world example of measuring a suspension system for a radio-controlled car. Read >
Automation World: Sustainability leads to next-generation manufacturing
Gary Mintchell discusses the inherent challenges of what sustainability means for manufacturers. Read >
Mechanical Engineering, ASME: Green Decisions, What a tangled web we weave when first we design with the environment in mind
Jean Thilmany explores the challenges faced by manufacturers to start getting greener. Read >
Core77: Life Cycle Thinking: Key Issues and Indispensable Tools
Lloyd Hicks takes a hard look at Life Cycle Assessment and it's role in product design. Read >
Cadalyst: Computer-Aided EcoDesign
Kenneth Wong discusses how 3D model–based technologies are helping assess and reduce a design's impact on the environment. Read >