Jon Keng, Mercyanne Andes, Millali Marcano, and Sunyoung Bang are students in the Tufts Gordon Institute [2] Masters in Engineering Management program. As a part of the program, students are engaged in short-term consulting projects to allow them to experience real-world challenges. They chose Sustainable Minds as their sponsor company for their summer practicum project.
Vers [3] founder, David Laituri, clearly knows what it means to create a more sustainable product. One of his philosophies is the concept of 'Chi-eco' (pronounced chee-co). A customer buys a Vers product because of design and performance first (chic), and environmental performance second (eco). This philosophy truly helped Vers' recent Kickstarter campaign achieve a 1946% funding goal and raise almost $200,000. David certainly knows how use 'greener' to drive product innovation that leads to new revenues.
When the team first met David, we were impressed by his extensive experience with product manufacturing and deep interest in sustainability. Every Vers component and process was already developed with sustainability in mind. It was a challenge: how can we improve on an already lean, sustainable design? Working with the team at Sustainable Minds has expanded our applicability of sustainability in product design and development. The key is to look at all of the phases of a product's life cycle.
With his experience in manufacturing and his focus on sustainability, David already considers all the phases of a product's life cycle to determine where sustainability can be integrated. David finds ways to reduce impacts in so many ways; using recycled paper in packaging, offering a recycling program that provides incentives for customers to return their old speakers in exchange for future discounts, and participating in a tree planting program. One example of David's effort to reduce environmental impact, no matter how seemingly small, is exemplified in his attention to packaging. Vers products have eliminated twist ties [4]. The first time Dave made that decision, they eliminated 5 miles of twist ties by the end of the first year! Even still the tiny bag for the Vers earphones represents room for improvement. As David says of the tiny bag, "…it just bugs me".
Ecodesign Strategies: Vers Q
Sustainable Minds emphasizes the value of exploring ecodesign strategies in each stage of the product life cycle early in product development. If assessment can be done before any plan is set in stone, it will save the company money and create a product that may very well be 'greener' than what is out there. We could see how this thinking was applied for the production of Vers Q systems.
Material: There is a general image regarding products that use wood – 100+ year-old images of clear cut forests usually come to mind. In reality, wood is one type of material that has lower impact, can be recycled, and is long lasting if handled with care. However, using wood results in a decrease in the population of trees and to address this, Vers has a program where they account for all wood used in production and replants 100 trees for each single tree that is used.
Vers is always trying to find better materials (i.e. bamboo) that have a lower impact on the environment. For instance, Vers chooses to use recycled paper and cardboard for packaging and is always thinking of ways to reduce unnecessary plastic and other non-recyclable materials.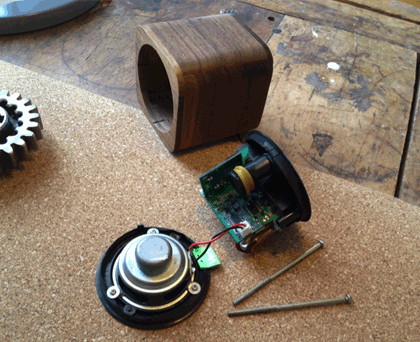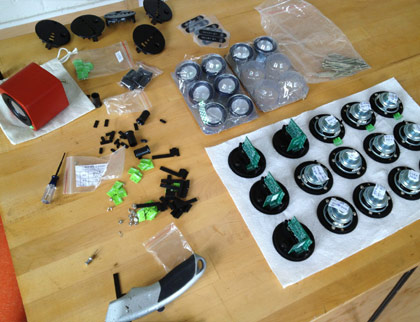 Process: The Vers Q was designed to minimize the number of parts required. The wood casing does not have a front or backside in order to reduce the potential scrap rate. This way it can be used to make multiple product lines using the same model, reducing the need for different parts. Vers has also done this with the button frame. The molding of the button frame is made so that it can be used for more than one device. One device might need more or fewer buttons than another device. If the frame is made to fit more than one device then it avoids requiring multiple processes. Also, if the current device requires an upgrade and needs a new button then it can be easily added.
Product lifetime: Vers has implemented a few methods to ensure that the product has a long life.
The wood outer casing is durable, which decreases the likelihood of the product becoming damaged.
Vers Q is a Bluetooth device that is capable of connecting to older Bluetooth devices.
Using screws to assemble the device, allowing for repairs if needed and easy separation of materials at the end of life.
Use Phase:
The device is set up so that if music is not played within a certain length of time it shuts off on its own in order to preserve battery power.
The Vers device is made with class D speakers instead of class A or B, which uses less energy.
End of life: Because it is assembled with screws vs. adhesives or snap fits, Vers is able to easily repair their systems if needed. They also accept any unwanted devices even if there is no Vers product purchased, in exchange for future discounts. Different parts can also easily be separated at the end of the product's life.
Again, our sincere gratitude to the following team members: Terry Swack, Joep Meijer, Cindy Bayley (www.sustainableminds.com [5]), David Laituri (www.versaudio.com [3]), Sam Liggero Ph.D. (gordon.tufts.edu, [2])