Recorded Tue, Aug 11, 11–12pm ET
Sustainable Minds and the Industrial Designers Society of America (IDSA)
created an ecodesign challenge for its inaugural Sustainability Deep Dive Conference (June, 2020) to engage the industry in an opportunity for hands-on learning. SM provided our Eco-concept + LCA Software along with a well-defined design process and ambitious submission requirements.


There were 52 entries. The results will amaze you!
1 – Mary Friedl,

Mammotome

2 – Jeswin P George,

Studio ABD

3 – Shane Chen, Shih-Hsuan Huang, Hsuan2 Studio
Stephan Clambaneva, IDSA Exec Board, Co-emcee Sustainability Deep Dive conference
Shruti Parikh, Associate Partner, Desmania Design
Manuela Toro, LCA Analyst, Sustainable Minds
Terry Swack, CEO, Sustainable Minds
Who these winners are, what inspired and informed their process and key learnings they're taking into the future
The challenges of the judging process, what criteria were used and how they were applied
How to use SM Eco-concept + LCA Software in early stage design to make informed trade-off decisions
How MFRs and design firms can use this process for any type of product to drive greener innovation
IDSA's commitment to sustainability in professional practice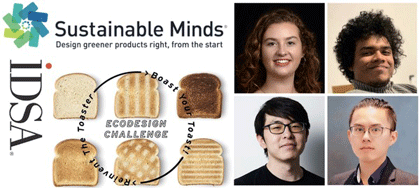 Sustainable Minds and IDSA invite you to reimagine the toaster to differentiate and position an existing kitchen appliance manufacturer, or a new company that you imagine, as a leader in high-performance home appliances with environmental performance' as a key component of the story.
To do this, we're providing you with a proven process and tools to generate innovative design concepts and measure the environmental performance of each to identify the best solutions. By participating in this challenge, you'll learn how to consistently integrate life cycle thinking and environmental performance improvement into your (and your company's) design processes.
Read the Challenge description and instructions > [3]
Shruti Parikh and Terry Swack share more about how to use the software and the many benefits of making improved environmental performance a key aspect of one's design success story.
Read the IDSA interview > [4]
How the GrabCAD and IDSA Challenge Help Train You for a Future in Environmental Performance Design
Read the GrabCad wrap-up with winner interviews > [5]
TRY IT! Sign up for an SM Eco-concept + LCA Software free trial account > [1]