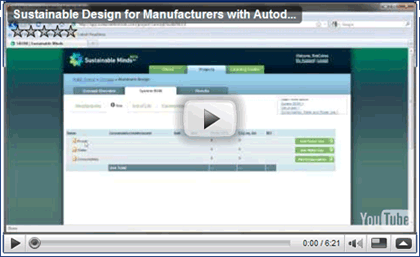 [1]
Rob Cohee, Industry Solution Evangelist from Autodesk's Manufacturing Industry Group, has been entertaining the design and manufacturing industry for quite some time with his fun, informative, and sometimes irreverent video demos. Now he takes on green product design using Sustainable Minds LCA software. (Even though Rob's met us, I don't remember wearing my 'steel-toed Birkenstocks' that day. How did he know?)
What's great about Rob's demo is that he shows off the usefulness and ease of use of Sustainable Minds. It's easy to learn and use, but most importantly, it provides meaningful and actionable results. Rob was very quickly able to model the environmental impacts of a wine bottle opener made from aluminum, and based on the results, explore alternative materials (plastic) and end of life methods to improve the environmental performance. Importing the BOM from Autodesk Inventor made the process even faster.
There is no such thing as a 'green' product.
All products use materials and energy, and create waste. There is no explicit definition of what 'green' means. Industry groups and third-party certifiers are working on definitions and standards, but, as yet, there is no standardized set of metrics to qualify a product as 'green.' The best we can do is make products greener than the ones we make today.
It's all about comparisons!
Our customers at Celestica [2], one of the largest outsourced electronics design and manufacturing company in the world, wrote in their evaluation to management: "Sustainable Minds has created an approach based on rapid assessments and iterative analysis for weighing design alternatives." As such, Sustainable Minds will play a key part in the Development phase of their new Green Chain Solutions Service offering. They see Sustainable Minds as an "enabling technology" when used in combination with their ecodesign expertise in design for high reliability, design for disassembly/recyclability, and design for reduced power consumption.
Everyone is just getting started.
Everyone is just at the beginning of figuring out how to make greener products. What's required now is a big shift in thinking. Operationalizing greener product design starts with bringing life cycle thinking and a whole product systems approach to the front of the design process. By bringing together ecodesign knowledge with LCA software, product teams can approach product design differently and measure the impacts of these new ideas, without special training or certifications. It needs to just become part of the way development teams work, which is why Sustainable Minds has integrated software, education and community into one system.
Sustainable Minds release 1.0 will catalyze the way products are designed and made by helping to bring products to market with improved environmental performance. Organizations that figure this out now will certainly have a greater competitive advantage.
Download [3] our free whitepaper, 'Greener product design: Getting started in environmentally sustainable design', and sign up to be notified when we launch! Stay tuned.
http://www.sustainableminds.com/autodesk [1]