Emerging software company innovates a global standards process into a market-driven, user-friendly solution
NEW ORLEANS, L.A., Oct. 22 /CSRwire/ - (Greenbuild, Booth #616) - Sustainable Minds (SM), a cloud software and services company whose mission is to operationalize environmental performance in product development and manufacturing, continued to demonstrate market leadership by launching today ten new SM Transparency Reports™ from TOTO, the largest plumbing manufacturer in the world, for select high-efficiency commercial products, showcasing 15 products across four categories. TOTO's SM Transparency Reports, verified by NSF, can be viewed in the TOTO Showroom [1], in the SM Manufacturers Showroom.
With the introduction of the SM Transparency Report Program, Sustainable Minds continues to realize the intent of the ISO 14025 standard for Type III environmental declarations (aka EPDs) and the U.S. Green Building Council's LEED v4 (Leadership in Energy & Environmental Design), a green building certification program that recognizes best-in-class building strategies and practices: to encourage demand and supply of products with better environmental performance communicated with verified information that stimulates potential for market-driven continuous environmental improvement – and then to reward project teams for selecting products from those manufacturers.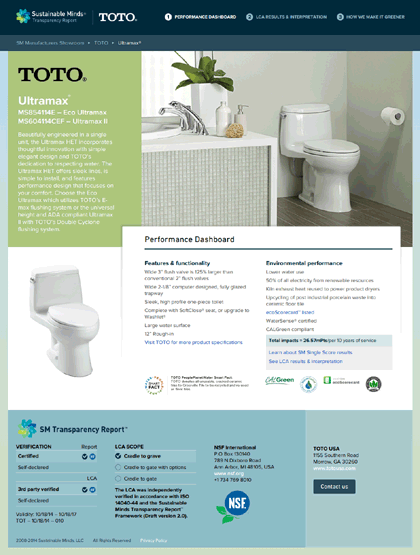 TOTO Ultramax Transparency Report provides verified functional and environmental performance information, all in one place, in the cloud, making it easy for project teams to make greener decisions and earn LEED and Green Globes credits. [2]
The SM Transparency Report Program represents a step change innovation in the ISO 14025 process. This new product category rule/environmental product declaration (PCR/EPD) process is designed to standardize, harmonize and make product transparency reporting understandable and meaningful. The SM Transparency Report Framework is a 2-part PCR process regionalized for North America and extensible globally. It provides a common basis for consistent, robust and quality-assured LCAs. It builds on PCR/EPD work being done in Europe and North America and particularly on EN15804, the European standard for construction products.
Faster, scalable, cost-efficient and user-friendly, it delivers a Transparency Report, an EPD++ that informs greener product decisions and drives continuous environmental improvement. It is the first comprehensive program for product manufacturers to design and market greener products to create a continuous improvement loop. TOTO's leadership in developing and demonstrating the SM Transparency Report Program is highly valuable to stakeholders in all industries.
"TOTO products are known worldwide for their quality, innovation and for having first class performance that exceeds customerexpectations and enhances usability. Communicating our products' performance with SM Transparency Reports goes beyond other types of EPDs that exist today. They bring together functional performance with scientific, yet understandable, environmental performance data. The SM Transparency Report Framework used to create the product category rule (PCR), the standard for how LCAs are done, is efficient and focused. It defines rules for product groups, i.e., products that compete for and deliver the same function or purpose. Product group definitions (PGDs) include the functional performance parameters that are codified in a commonly accepted national standard to drive the requirements for how the LCA for products in that group are done. Based on this common baseline, each manufacturer can then demonstrate business advantage andcompetitive differentiation," said Fernando Fernandez, Director Codes and Standards, TOTO USA.
The idea for this broad-based program is the result of two people with significant knowledge, experience and vision in very different arenas coming together: Joep Meijer, with world-class expertise in life cycle assessment, PCR/EPD development and international standards creation; and Terry Swack, environmental entrepreneur, industry pioneer and expert on brand experience and designing useful and usable web-based business systems.
"The approach Sustainable Minds follows just makes the most sense. All learnings from the LCA and EPD community of manufacturers and LCA practitioners that benefit the overall system go into Part A, the main body of the PCR. It spells out the rules for all products. It provides the best guarantee for consistency, transparency, reliability and technical rigor for all EPDs. It is build on the experiences with the EN15804:2012+A1:2013 standard which is the most well defined core EPD framework in the world. The product specific rules, which tend to be both an important but also small part of the PCR, are covered in Part B, the product group definition. This split approach expedites the PCR development process tremendously. The combined innovation and rigor of this Part A and Part B is unparalleled in the Northern American market," explains Joep Meier,President, theRightenvironment and Sustainable Minds LCA Technical Expert.
"With the demand for transparency growing, manufacturers will get started when they see the direct correlation to business value. We saw this as an opportunity that needed to move from the standards development space (only), into a market-driven solution space. We're a small company taking on a huge systemic challenge, but we saw the opportunity and addressed it as a product development challenge, bringing the program to market iteratively using an agile process. As a customer centered design organization, engaging stakeholders and customers and integrating their requirements and feedback into the process has served to continuously improve the offering, and will continue to drive the programs evolution," said Terry Swack, Founder & CEO, Sustainable Minds. "There are things people in the industry are attached to and would prefer to keep status quo, but the bottom line is that the SM Transparency Report Program is better for the customer, better for the marketplace, better for each industry, and hopefully for people and planet."
"Sustainable Minds is helping to address one of the construction industry's most significant challenges with product transparency – understanding what the LCA and material health information they're being provided means, and then how to use it to make decisions. Prominent AEC firms are requesting EPDs and HPDs (Health Product Declarations) from manufacturers in order to be considered for product selection, but there's an enormous amount of education that's going to have to happen on both sides to understand what and how to report and how to use the information. Sustainable Minds is helping manufacturers provide concise and understandable information so designers have the ability to start making better informed specification choices now," said Brad Blank, VP, GreenCE, Inc., the online resource for design professionals who want to learn about sustainable design, conservation and the LEED rating system.
"We look forward to continuing to develop and scale the program through collaboration with certifiers, program operators, LCAproviders, industry organizations and of course, manufacturers and their customers," said Terry.
Note: High-resolution images of Sustainable Minds Transparency Reports for TOTO are available upon request.
For more information contact: Terry Swack | 617.877.5146 terry@sustainableminds.com [3]
About Sustainable Minds: Sustainable Minds cloud software and services help product manufacturers, across the value chain, design & market greener products. The company is dedicated to operationalizing environmental performance inmainstream product development and manufacturing in an understandable, empowering and credible way. Sustainable Minds Eco-concept & Life Cycle Assessment (LCA) software for greener product innovation is used by industry and education in more than 750 locations in 75 countries worldwide. Sustainable Minds' easy-to-use, standardized solutions make it possible for manufacturers – large and small – to dynamically evaluate, compare and improve their products' environmental performance by integrating life cycle thinking and LCA into their product development processes. The brand and market footprint position the company to become the industry standard solution for designing and marketing greener products. Sustainable Minds has been recognized by Gartner® in its 2013 Cool Vendor Report as "innovative, impactful and intriguing." To learn why, visit www.sustainableminds.com [4] or call 617-401-2269. Follow Sustainable minds on Twitter @sustainablemnds [5]
For more information, please contact:
Terry Swack [3]
Founder & CEO
Phone: 617 877 5416
Twitter: @sustainablemnds [6]
Michael Potts [7]
Director, Business Development
Phone: 617.290.8573