fredsparks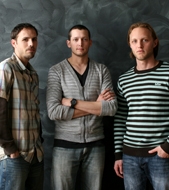 "
fredsparks uses Sustainable Minds to maximize its designs and profits, provide superior solutions, and expand its business.
"
Aaron Brookhart, Ken Harris & Brandon Hefer
Owners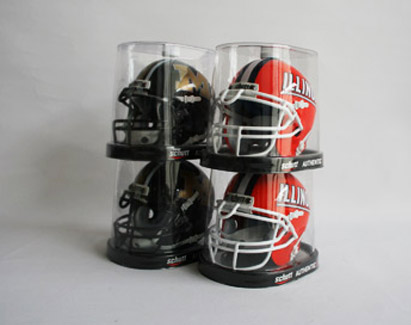 Challenge
Having learned after a few years of working with fredsparks to not be surprised at getting much more than expected, Schutt Sports presented the company with another challenge that brought out all three areas of success that fredsparks typically provides its clients: 1. Strategy, 2. Innovation, and 3. Sustainability.
Schutt Sports is involved in the global manufacturing and distribution of many kinds of team athletic equipment and accessories. Amongst its offerings, Schutt sells a collectible series of mini-football helmets that have a college or professional team's insignia on them. They are available at all types of retail outlets. The packaging is manufactured in Asia with final assembly and customization in the United States.
Schutt Sports turned to fredsparks to provide a greater brand presence, competitive differentiation, and a smaller footprint at point-of-sale for these collectibles while trying to respond to changing FedEx and UPS rates. Sounds complicated, but they didn't realize that fredsparks' ability and experience in sustainability could deliver on all those needs, by making a 'greener' product – and at a lower overall cost.
Solution
fredsparks' used Sustainable Minds LCA software to thoroughly assess the system bill-of-materials for the current package. Using CAD software, fredsparks' proprietary Innovation Spin Cycle™, and Sustainable Minds, fredsparks created of a host of innovative ways to meet the primary marketing requirements while innovating on the sustainability side.
Innovation in sustainability doesn't necessarily mean just material changes. Efficient distribution is another key element that impacts a product's carbon footprint. The Schutt team, impressed with the fredsparks' solutions and having been educated in the advantages of using Sustainable Minds, knew the requirements could be met and would demonstrate the strategy, innovation and sustainability they wanted for a presentation to sales staff and customers.
fredsparks was able to quantify the impact of material elimination from these innovative changes and demonstrate that from the insights gained using Sustainable Minds, they could provide the ultimate 'win-win' – a better product for the consumer and a better product for the retailer, all at a lower cost.
Because Sustainable Minds is simple to use, even for a complex product development solution, fredsparks was able to gain time on the project schedule and deliver a new product that could be produced and delivered for less than its predecessor. The cost reductions resulted from the redesign that eliminated parts; a more efficient shipping package (the enhanced stackability led to advantages in transportation); a streamlined assembly process, and enhancing the finished goods master packs.
So – from getting prospective clients' attention to the robust, yet quick, project deliverables, fredsparks uses Sustainable Minds software (and regularly turns to them for feedback and input on more exotic materials) to maximize its designs and profits, provide superior solutions and expand its business.