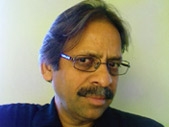 "
Sustainable Minds has the potential to be a game-changing tool in the field of product design. It brings a sophisticated LCA methodology within the reach of engineers and designers and enables them to put environmental performance of their products at the front end of the design process. And they can quantify the environmental impact of their design changes along the way as the design refinements take place.
"
Sanjeev Jain
Lecturer, Mechanical and Aerospace Engineering Department
In this class called Sustainable Product Design, multi-disciplinary design teams made up of students from diverse majors, ranging from engineering and sciences to arts and architecture, were tasked to design new or redesign existing products that met the needs of their users while minimizing their environmental impact. While some students had designed products before, no one had evaluated them for their environmental impact. Some had heard about life cycle analysis, but they all thought it was something that was esoteric and practiced by expert LCA practitioners. An easy-to-use LCA tool – Sustainable Minds (SM) – that they could integrate into their design process from the very beginning was a very welcome surprise.
Some students set up their reference design concepts in SM from rough sketches they had drawn up during team brainstorming sessions. Others went with drawings they acquired from manufacturers, while some dismantled their own vacuum cleaners, leaf blowers and other gadgets to get precise measurements. Some used CAD models of their products created in earlier courses, while others created CAD models after they had performed comparisons in SM and chosen their final eco-friendly design. Students meticulously traversed the entire eco-strategy wheel supplied by Sustainable Minds to apply strategies from each phase of product's lifecycle. Their out-of-the-box approach resulted in some very innovative product designs: community solar rice cooker/ vegetable steamer / crock pot combo gadget, vacuum cleaner / leaf blower transformer machine, a "rumio" that combined the functions of an art studio and a living room, an aluminum-bamboo electric fan, to name a few.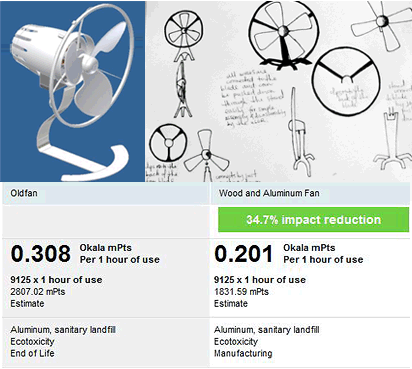 Students found Sustainable Minds to be very easy to understand, use and explain. They integrated the visual charts from SM into their final project presentations. They also made full use of the materials available on SM's online Learning Center. All in all, I had a very satisfied class of students who felt empowered and ready to design and engineer the next generation of eco-friendly products.