Taiwan Design Center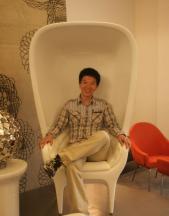 "
Thank you very much for giving such a wonderful lecture to my group. From conversation with participants, you truly brought the group fresh incentive and encouragement in their work. This is a very difficult subject, and you made it very simple and interesting. The software provides an excellent way to evaluate and benchmark current products, possibly leading to better green products in the future. I didn't know there is software like this, and neither did our participants – so big thanks.
"
Yu Hsiu, Yang
Manager
The Taiwan Design Center is a non-profit organization and serves as a multi-functional platform for the creative industry in Taiwan. The TDC has been improving the country's product design and increasing market competitiveness of MIT (made in Taiwan) products for nearly 30 years. With Taiwan being one of the world's major consumer product manufacturing bases, the TDC recognizes the importance of sustainability and is constantly seeking a more practical approach to environmental responsibility.
Earlier this year, the TDC organized a 2-week 'Green Design Workshop' for a group of Taiwanese product developers to come to the US to explore the latest in sustainable product design and manufacturing. Hosted by LUNAR Design, the program's format involved a combination of lectures, field trips, workshops and presentations. The group included CEOs, management as well as R&D specialists from small and medium-size businesses. Terry Swack, Sustainable Minds CEO, presented SM's approach to designing greener products using ecodesign and LCA – all through an interpreter!