Yakima Products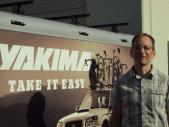 "
The Sustainable Minds workshop was just what we needed to get started using the software. It was much more than a simple 'how to press the right buttons' presentation. The thinking behind the software and the sources for the underlying data was clearly explained. Armed with the information from this workshop, we were able to jump right in and use Sustainable Minds in our product development process.
"
Chris Sautter
Advanced Development Manager
At Yakima, we're dedicated to helping people get out and enjoy this beautiful planet of ours. We want to keep it beautiful for generations to come so we're doing everything in our power to make sure our environmental impact, or 'footprint' stays as small as possible. We've recently added Sustainable Minds as part of our product development process to analyze our current and new products. Using SM, we've been able to make better design choices with regard to sustainability.
An example of the value of using Sustainable Minds is the changes we made to our Forklift product. SM results highlighted opportunities for material substitutions that made significant improvements to sustainability, and also improved cost and performance.
A comparison of our original and redesigned Forklift bike mount.