SM Material Health Overview™
Leverage your investments in material evaluation and turn disclosure into brand value. A cloud-based marketing tool for manufacturers to inform safer and healthier purchase decisions, the SM Material Health Overview combines product sustainability efforts into one integrated story and standardizes the presentation of results from ANY program in one comprehensive report.
The Material Health Overview (MHO) makes disclosure data understandable and meaningful by distilling essential technical information, describing what it means and what the manufacturer is doing to improve. SM partnered with the leading material evaluation organizations to create MHOs tailored for each program.
Designed to easily & clearly provide answers to key questions:
What is this product made of?
Are there any hazardous ingredients?
If yes, how bad are they?
Are there any exposure concerns?
What is the company doing about improving the human health impacts?
"Sustainable Minds has produced an excellent interpretive report, based on the information disclosures in an HPD. The MHO puts the data in a context and provides interpretation to make the disclosure information understandable." – Wendy Vittori, Executive Director, HPD Collaborative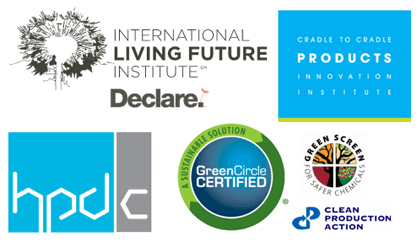 Available as standalone report OR include in an SM Transparency Report, the first EPD and material health evaluation delivered in one cloud-based report. View EXAMPLE reports >
Explore live MHOs:
The Material Health Overview has five sections:
Program and scope – A description of the program used and the scope of the assessment
Assessment results – Design of this section is tailored to each program to include the material contents and/or the screening and hazard assessment results
Health concerns/how rating was achieved – Interpretation of the results, manufacturers can answer questions readers might ask and explain and contextualize the results.
Health improvements – Programs, methods, actions the manufacturer has or is implementing to improve or optimize the material health
References & rating systems – Links to the full report, material health program technical standard and green rating systems with credit eligibility.