Celestica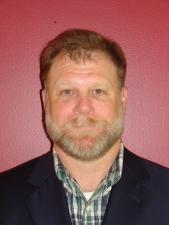 "
Our value to our customers during the design phase of the product life cycle is our design know-how. Sustainable Minds has created an approach based on rapid assessments and iterative analysis for weighing design alternatives. The method and tool is light-weight, which means that once all the data is in place, we can analyze a product very quickly. Sustainable Minds will help us cut to the chase with complex products containing thousands of components, and identify what really matters, when compared to other long and complex LCA processes. We view Sustainable Minds as an enabling technology that, when coupled with the other elements of our green design offering and our design know-how, will give us a capability to help design greener products for our customers.
"
Glen West
General Manager, Green Chain Solutions
Celestica, one of the world's top electronics manufacturing companies, offers end-to-end product lifecycle service from product design through to end-of-life management. Celestica is embracing environmental sustainability as a business opportunity to offer new sustainable services in three key areas of their business: product design, manufacturing and the supply chain, and after-market support services. Sustainable Minds provides a key ingredient for the development phase of Celestica's green solutions offering.
Celestica is building a suite of environmental assessment tools to help their customers create new, differentiated products, comply with environmental legislation, reduce cost and their environmental footprints, and protect their brands. With true life cycle thinking, and growing eco-design know-how, Celestica intends to drive innovation by helping customers design products that use less energy, last longer in the field, and are easy to disassemble and recycle at the end of their useful life.
Celestica's Green Chain Solutions offering spans concept design, through manufacturing and end of life – all stages of the product life cycle.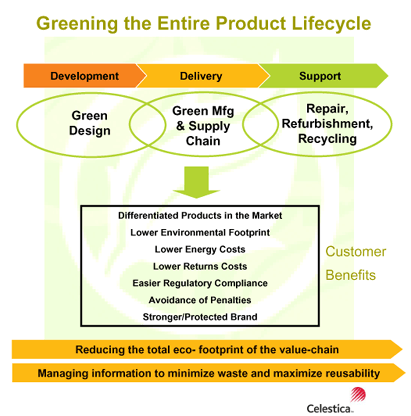 Slide from evaluation report. Design team illustrating how SM is an enabling technology when combined with their ecodesign know-how.