theRightenvironment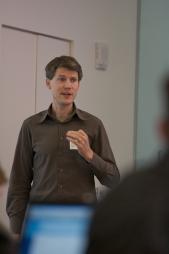 "
As an LCA professional, I can provide more guidance throughout the design process. Because it helps my clients learn about environmental performance while they're using it, it enables them to ask both themselves and me better questions.
"
Joep Meijer
President & LCA professional
Sustainable Minds empowers designers with easy-to-use software that helps the design community in several ways. It brings quantifiable data to the table to show real progress. The most important characteristic of SM is its usefulness from the very beginning of idea creation for a new concept or design. It actually helps generate more ideas, which can then be evaluated according to sustainability merits. They can incorporate sustainability principles into their thinking based on self-experienced, hands-on work."
My clients like the inclusion of more than just a carbon footprint. It enables them to see potential trade-offs and make informed decisions. Therefore it complements other tools that focus on technical performance and economical viability. It should be part of any decision maker's toolkit in the design community.